Assistant Director Intern - A Day In The Life Of
January 31, 2022
A day in the life of a Masterclass Assistant Director Intern
Imogen Beech takes us through a day in the life of an Masterclass Assistant Director Intern as she works on Private Peaceful at the Nottingham Playhouse
Blank faces and confusion. That's the reaction I normally get when I tell friends and family that I'm working as Assistant Director on Private Peaceful at the Nottingham Playhouse. It's not that they're not excited for me but… what exactly is an Assistant Director? And what does one do?
Well, it depends on the production and the Director. On Private Peaceful, my role includes conducting research, working with actors one-on-one, keeping track of who's going to be in the room and when, and liaising with different departments.
On this production, I'll be stepping up into an Associate Director role when the play goes on tour after the initial run in Nottingham. So, I'm also responsible for rehearsing the understudies, 'getting in' the production and making sure the creative vision of the production is maintained in each new venue we go to.
But what exactly does that all look like? Here's a diary of a day in week 2 of rehearsals.
9.30am
We normally start our days at 10am. However, today's a Friday so we're starting a bit earlier.
First things first, it's time to warm up. Neil Bettles, our amazing Movement Director, does a physical warmup with the company every morning. One of the things I love about the Director, Elle While's, rehearsal room is that everyone's encouraged to take part if they want to – not just the actors. So, I'm obviously getting involved!
The warm up involves everything from yoga to squats, crunches and star jumps. My muscles are aching but I can feel myself getting stronger already! To finish off, we play a game where we all have to take it in turns to jump up and down. It's a hard one to explain, but it's a great workout for your brain as well as your body!
10am
Physical warm-up complete, the actors have a session with Marianne Samuels, the Voice and Dialect Coach. She conducts a vocal warmup before helping the actors to hone their accents for the production. As there's a lot of multi-rolling in the play, there are tons of accents to perfect, including Devon, RP, French, German and Scottish.
I take the opportunity to get on with some more research, and share bits with Elle. Today, we're going to carry on working through Act 2, which is set in the First World War. So, we're brushing up on specifics like the Second Battle of Ypres and what life would have been like in the trenches.
11.15am
Tea break! Time for a much-needed coffee.
11.30am
We're in the midst of working through Act 2, so now we're going to carry on and see how far we can get. That means putting scenes on their feet for the first time which is always exciting to witness and a great opportunity to learn from Elle. I love watching her process.
The whole ensemble is onstage almost constantly in Act 2. We spend a lot of time looking at the physical shape of the scenes, as Neil and Elle find creative ways for the characters to journey through No Man's Land in the play.
After a while, I take Abigail Hood, our only offstage understudy, to a separate space to do some one-on-one work with her. She's impressively covering a whole host of characters in the play, including the protagonist, Tommo, so she has a lot to absorb. Given the pandemic, it's important that the understudies are ready to go on from the very start of the run, so we're grabbing as much time together as we can.
1pm
Lunch! I forgot my packed lunch today so I walk to Sainsbury's with our ASM, Nathalie Perthuisot. Then I snatch some time to work on cover cards so that everyone knows what to do if somebody's off for a performance.
2pm
In the rehearsal room, we continue working through Act 2 and consolidating some of the movement sequences we created earlier in the week. Meanwhile, I take the chance to do some one-on-one work with those who aren't needed.
I spend half an hour with Robert Ewens, who's playing Big Joe, and then continue working with Abigail on one of her understudy roles.
3.45
Tea break! I grab another coffee and head back to the rehearsal room.
4pm
To keep things fresh in our minds and consolidate all the work we've done so far, we run from the beginning of Act 2 to the point we got to today. This is a great chance for me to see the work that's been done while I was out of the room. I take detailed notes so I can rehearse the understudies into it next week.
It's exciting to see it all coming together – I can't wait for it to get into the theatre!
Elle gives the company her notes and I make a list of all the sections she wants to look at in more detail. We then work through the list, ironing out the sticky bits.
5.30pm
After Elle gives the actors some homework, we break for the day. Time for a restful weekend (and to catch up on some bits and bobs I didn't get a chance to do during the week!) before we get back to it on Monday.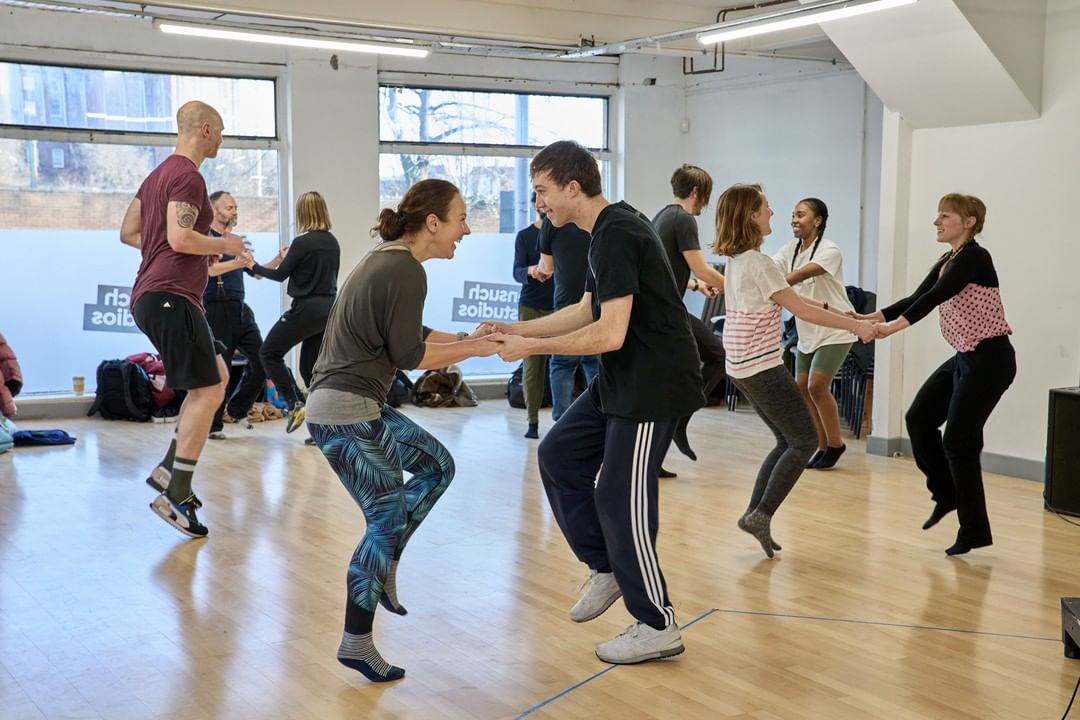 Photo Credit: Manuel Harlan
If you're interested in an internship with Masterclass, keep an eye on our News page on our website and and sign up to our newsletter to be the first to see our opportunities! Sign up below.